Many ferret owners do not realize that their ferret cannot handle temperatures over 24 or 25 degrees Celsius. Ferrets do not have sweat glands and can not cool their body temperature down by panting like dogs do. As a matter of fact if you see your ferret panting, your ferret is in heat distress and in danger of dying from heat stroke!
So, first lets talk about how you can keep your ferrets cool (and thereby safe)! If you have central air in our home or a window air conditioner in their room; you have things covered at home.
If your window air conditioner does not really cool their room but you have access to your basement, most likely it will be a nice cool space to move the cage to for the duration of the heat wave.
If you drive a car with air conditioning you are covered when out to the vets. You shouldn't be taking your ferret for a car ride on high temperature days. What would you do if your car died or you were in a minor accident and had to wait on the side of the road for help.
Please don't take your ferrets to the beach. Parking them in the shade will not keep them cool.
Please don't take your ferrets to the cabin unless you have air conditioning at the cabin. Remember a fan flowing on the cage will not cool your ferrets down.
Do not to leave your cage or carrier in front of a window. That sun beaming through the window can still overheat your ferret. I have had my forearm sunburn through the car window in an air conditioned car.
For those of you without air conditioning of any kind there are still some ways to protect your ferret. You can add water to an empty plastic soda or pop bottle and freeze it. The empty miki bottle from the liquor store is flat and is perfect for your ferret to drape himself/herself over. You can pick up a couple of ceramic tiles from the ReFit store and pop them in the freezer. You can even use those gel packs but only if you are sure your ferret won't chew on them as the liquid is toxic. Remember to put the frozen container in a pillow case or wrap in a light towel so that your ferret isn't lying directly on the frozen container.
You can also move your ferret into the bathroom, placing his blanket, food and water in the bathtub. We all know how cool that porcelain feels. Don't close the bathroom door as this small space could heat up. And it goes without saying that your should make sure the bathroom is 100% ferret proofed just in case they can jump out of the tub. You don't want to loose your ferret under the tub or in the walls from the sink cabinet.
Last but not least, you can fashion a simple air conditioner by soaking a bed sheet in water and then draping the wet bed sheet over the cage. Place frozen 4 litre milk jugs inside the cage as well. Place an oscillating fan in front of the cage. The fan blowing on the wet bedsheet will bring down the temperature inside the cage. This only works until the bedsheet is dry. So constant supervision is required.
A FAN BLOWING ON THE CAGE; MOVING THE HOT AIR AROUND THE ROOM WILL NOT COOL YOUR FERRET DOWN.
You could even invest in a small portable cube air conditioner available most hardware stores or on line.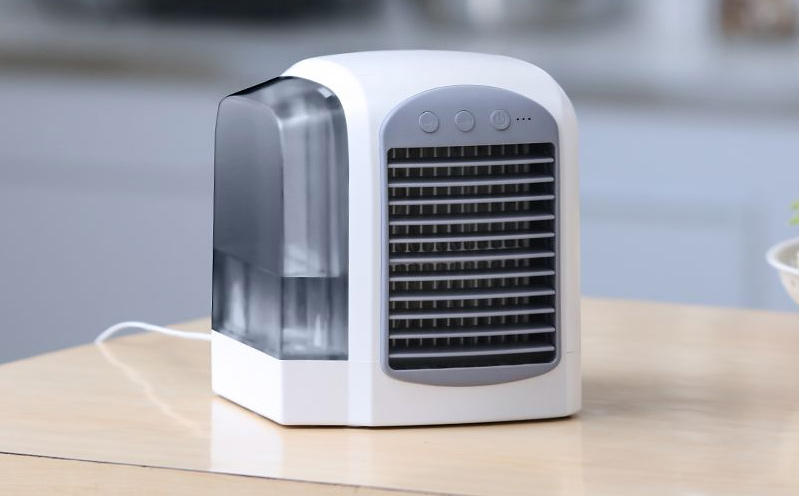 I THINK MY FERRET IS OVERHEATING, HELP!
So let's talk about the worst case scenario; and you come across your ferret and you think he/she is overheating!
Your ferret is overheating if: it is limp, and lethargic and the temperature in that room is above 25 degrees Celsius /
your ferret is laying there with it's mouth open and seems to be panting (this is a crisis). This is a life threatening situation and your ferret will die if immediate action is not taken.
Immediately immerse your ferret in a sink or container of tepid water. NOT COLD WATER, you will shock his body if you do so. Test with your elbow. It should feel like room temperature. Cup handfuls of water and pour over the back of the head and body. Have your partner calling your vet to tell them you have a ferret emergency and you need to bring in your ferret for fluids due to heat exhaustion.
If you have caught the heat exhaustion in the early onset stage, your ferret will start wiggling and being himself/herself after 5 minutes or so. Offer him/her water to drink and move to your ferret to a cool location. If you aren't sure your ferret has fully recovered, please bring him immediately to your vet. Don't second guess. Your ferret may need fluids to properly recover.
You may not have to bring your ferret to the vet if caught early enough and you are absolutely sure he/she has recovered. Remember if you can't transport your ferret to the vet in an air conditioned car, your ferret is still in danger of overheating again on the drive over.
So your ferret is out of immediate danger, but you must still rectify the housing situation that allowed him/her to overheat in the first place. Act on the suggestions listed above.
If your ferret is not responding to the tepid bath, warp your ferret loosely in a wet towel and rush him to the vet. The hope is that the vet will be able to administer fluids plus continue with procedures to cool your ferrets body temperature down.
By the way, did you know that putting a single ferret or a pair of ferrets in a pet carrier that is too small will cause them to overheat. Their bodies crammed together will increase their core temperature and overheat them. I know this from personal experience of 2 ferrets coming into the shelter from an air conditioned car. They were 2 fully grown ferrets crammed in a hamster carrier for the 20 minute car ride to my place. It was enough time for them to arrive limp and panting. By the grace of god, they must have just gone into heat exhaustion and the tepid bath was enough to bring them back from the brink of death. I then administered sub-q fluids. It took 30 minutes of working on them to save them. I was 10 minutes away from my vet clinic but they would not have made the trip. Had they been in the carrier another 5 minutes; it would have been too late.
Have I scared you! I hope so! A ferret overheating is a life and death situation. My hope is that you read this and take measures to prevent this ever happening.